From the rise of misogynistic influencers online to growing restrictions on girls' rights to education, harmful gender norms are impacting communities across the globe. So, how can the most persistent harmful norms be tackled and how can community and faith leaders support these efforts? We spoke with Kalpana Rai, a gender expert and young activist from Nepal and member of the Beyond Beijing Committee (a project funded by ARROW) about her experience of working with faith leaders to build more gender equal communities.
Over the past ten years Kalpana's journey has led her from being a reserved girl in a world marked by harmful norms into a vocal advocate for young people's right to sexual and reproductive health. Kalpana shares: "In Nepal, women don't always have decision-making power, often taking the role of 'home managers' and remaining inside the home. I learned that these gender norms are not good as they limit women and girls' participation in society."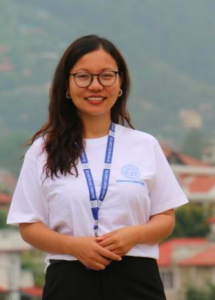 Determined to do something about these discriminating gender stereotypes, Kalpana started providing Comprehensive Sexuality Education (CSE) with a youth-led organization in Nepal: "Ten years back, I wasn't aware of sexual and reproductive health issues at all. I first came to know about young people's right to sexual and reproductive health through the youth organisation Y-Peer via a family planning demonstration I attended. I realized that what I was learning about should be public education for all, because young people's health and wellbeing is an issue that effects everyone." Kalpana saw the important role education plays in equipping young people with positive information around gender equality and joined Y-Peer in providing CSE to young people in Nepal.
Nowadays, Kalpana and other SRHR advocates are encouraging the government to include CSE within curriculums at secondary school to college level. Additionally, Kalpana and her peers have been providing CSE sessions to young people out of the school system. This brought its own unique challenges:
"During a CSE session in one of the districts, parents questioned "What are you teaching our children?". The facilitator explained that this is Comprehensive Sexuality Education and outlined the different components of the course and the benefits that pupils would get from it. The facilitator urged the parents to send their children to the session again and if they still didn't like the method or teaching style then the children could leave whenever they wanted to. The parents agreed and sent their children back to the CSE sessions….the children enjoyed it so much that in the end they joined for the whole CSE course."
This experience and others like it underlined the importance of engaging community members in conversations around CSE: "We engage parents, interfaith leaders, teachers and health professionals on CSE conversations at the local level. We are also mobilising interfaith leaders. They have a vital role to play because they preach about religion, honesty and what is considered sinful or not. If we address and change harmful norms with them, they can help change parents' mindsets as well."
Engaging religious leaders isn't easy but Kalpana remembers a particular instance in which she and other advocates were successful in doing so: "We organised a national consultation meeting on ending gender-based violence and we had a conversation with interfaith leaders from different religions – including Buddhist, Hindu, Christian and Muslim leaders. By having open discussions and providing different case stories on the benefits of CSE, we collectively concluded that interfaith leaders have the power to help transform society for the better, and they can only do this when they change their principles or perceptions of gender equality. Those attending realized: if we change ourselves and our perceptions and take this step to change society it will be easier to create change in Nepal's context. So, we keep collaborating and are still having good conversations with faith leaders on how to end harmful gender norms and practices. Interfaith leaders have a vital role to play."
A specific example where religious leaders can play an instrumental role in promoting positive gender values is with Chhaupadi. Chhaupadi is still practiced in the far Western parts of Nepal where girls have to stay separated in huts during their menstruation, even though the practice is illegal. Some families believe that if they do not follow this ritual then someone may die, something bad will happen, or that their God won't forgive them. "So these perceptions still exist in our society and faith leaders can help end them as families will listen to what they say." shares Kalpana, "When we speak with them, we say that in the Gita (i.e. prominent Hindu texts) it is not mentioned that menstruation is a sinful act. We explain that menstruation is a natural cycle and that girls need proper nutrition and rest instead of being discriminated against. Interfaith leaders have a vital role to play. We are mobilising them and can see positive changes."
So, given her experience of changing harmful values and promoting positive norms in Nepal, what tips does Kalpana have for others looking to shift the needle through providing CSE?
"Firstly, we need to understand the social context when providing CSE at the local level. We are working to stop discrimination and harmful gender norms, and change mindsets and attitudes so that women and girls have the right information and support they need, in an equal society. Secondly, we should also integrate ourselves in recognizing that young people are diverse and have different needs. Lastly, we should not overlook the marginalised young people who aren't in school by focusing on using activity-based or visual learning methods as some may not be able to read or write".
Kalpana Rai (She/Her), Advocacy & Campaign Officer at Beyond Beijing Committee (BBC) Nepal. She is currently working as Advocacy & Campaign Officer at Beyond Beijing Committee Nepal is a feminist national network organization in Nepal working on women's and young people Sexual & reproductive health and rights and empowerment and Feminist Movement & leadership. Her works focused on the advocacy on Women's Human Rights, Gender Justice, SRHR and CSE for young people. She has more than 10 years of experience working with diverse young people and women. She holds Master's Degree in Gender Studies.