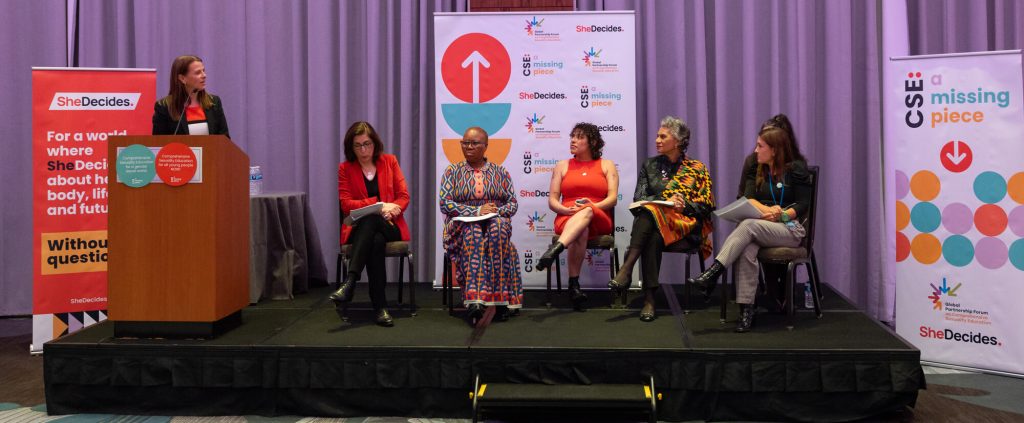 On the sidelines of CSW67, SheDecides and The Global Partnership Forum on CSE hosted a high-level event to spotlight the important role CSE plays in achieving global goals on gender equality.
The evening reception, attended by over 130 leaders from Governments, UN bodies, civil society organizations and youth activists, marked the first day of CSW67 and provided an engaging and safe space for learning, discussion and networking.
An expert panel comprising three Governments, youth activists and UNFPA spoke to a packed room to share their views and experiences on how CSE is an essential piece in building a gender equal world.
Memory Kachambwa, Executive Director, FEMNET & Chair of the SheDecides Guiding Group opened the evening by welcoming guests and explaining what CSE is and its link to gender equality.
She said: "CSE is education that equips young people with the knowledge values and skills they need to make healthy decisions about their bodies, lives and future. It teaches young people how to protect themselves from harm and from harming others. It is an essential part of the solution to achieving global goals of gender equality and health. But not all young people have access to it. And not all Governments are prioritizing it."
Eunice García, Executive Director, Youth Coalition was the first member of the panel of speak. She talked about the complexity of sexuality and the role CSE plays in keeping young people like herself safe:
"We know that to achieve gender equality we must change societal norms and behaviors that lead to harmful practices. If we really want to address the behaviors that are the root causes of gender inequality…we must approach CSE in a holistic way."
Minister Ana Catarina Mendes, Minister in the Cabinet of the Prime Minister and for Parliamentary Affairs, Portugal spoke next. Portugal, who recently became a SheDecides Champion, is a leading advocate for CSE, emphasizing its role in upholding human rights – including gender equality, as enshrined in their national strategy. Minister Mendes said:
"The Portuguese Government is fully committed towards gender equality. CSE enables young people to understand their rights and build knowledge to make informed decisions about their bodies, lives and futures. This is the most basic foundation to achieve gender equality for all. It is like a bird with wings – we need both to fly. We need to have CSE as a part of the fight for gender equality."
Next to speak was Paulina Calderón, State Secretary, Equality Portfolio, Ministry of Women, Genders and Diversity of Argentina & Head of Delegation. The State Secretary spoke of how Argentia has prioritized CSE by mainstreaming it across schools despite some pushback, demonstrating how Governments can take concrete actions to ensure young people receive quality education as part of the national curriculum.
She said: "In Argentina access to sexuality education in all schools in the country is guaranteed by law since 2006. The national CSE programme in Argentina takes a comprehensive look at issues related to bodily autonomy. Its approach to gender & diversity perspective invites us to de-construct patriarchal practices that have been mostly normalised."
Dr Julitta Onabanjo of UNFPA followed the Ministers remarks. Dr Onabanjo spoke of the importance of ensuring accountability to global commitments on CSE, especially as we approach CPD. "How do we translate those commitments into actions?" she asked. "It is the movements, global partnership and collective voices that will help us do this." "We need to invest in CSE, it's a no-brainer." she added.
To wrap up, two youth activists from the Philippines and Morocco took to the stage to deliver a statement to the room. Shamah Bulangis, Co-Chair, Transform Education emphasized the importance of changing values in the education systems.
Shamah said: "We need to train teachers on how to talk about CSE. It's clear to us how CSE challenges the status quo and power dynamics between genders. The educational system has been long used by the patriarchy. CSE is one of the tools for young people to change this. It's our turn now, we can't let patriarchy win in our educational institutions!"
Zouhir Adaoui, Executive Director of Y-PEER Morocco, emphasized that CSE integrated into school curricula, is important for young people in Morocco. He stressed that "It promotes good social values in the fight to stop sexual and gender-based violence, and child marriage". "CSE changes discriminatory norms through information and education of values for well-being, safety, rights and sexual and reproductive health."
Finally, Minister Zulu, Minister of Social Development, South Africa and SheDecides Champion closed the panel. The Minister thanked the youth speakers for their comments and talked about the importance of communication and of having honest conversations with young people about their bodies and sexuality.
She said: "Studies show that targeted, informed CSE interventions have positive and lifelong implications for health and wellbeing of young people. Therefore making CSE investment in young people is very important."
Following the panel, participants stayed to network with other guests, and many took part in the photobooth activity where they were pictured holding up key messages about CSE.
The event marked the start of SheDecides and The Global Partnership Forum on CSE's joint campaign highlighting the role of CSE as a missing piece to achieving global goals on gender equality. By showcasing the global support that CSE has, and providing tools that encourage others to speak out in support for CSE, the campaign aims to spotlight how education is part of the solution to building gender equality for all. For more information on the campaign visit cse.shedecides.com