At SheDecides, we know that comprehensive sexuality education advances gender equality and fosters healthy relationships. In turn, healthy relationships lead to stronger societies. How? We spoke to Fòs Feminista, a partner of the Global Partnership Forum on CSE to learn more.
Whether it's a supportive family member, encouraging teacher, comforting friend or loving partner – you likely have had a relationship that positively impacted you. So, it comes as no surprise that healthy relationships result in thriving communities and economies.
We know that people live happier and fuller lives when they can show up authentically, build trust, feel safe and work towards collective goals. What's more, healthy relationships lead to healthy people as healthy relationships are stress buffers and increase people's well-being [1],[2].
Still, developing and maintaining healthy relationships isn't easy. But comprehensive sexuality education (CSE) can make a difference!
CSE builds knowledge, attitudes and values for healthy, respectful and gender equal relationships. It acknowledges respect, trust, acceptance, freedom of choice, positive communication and conflict management as the cornerstones of healthy relationships. CSE also reduces violence and harmful behaviours[4]. Importantly, it helps young people identify abuse and coercion, set boundaries and seek help when needed. By supporting young people to learn about gender norms, power dynamics and consent, CSE plays an important role in preventing gender-based violence by engaging boys and men as allies and educating young people on their rights and existing laws.
Through our work with the Global Partnership Forum on CSE, we've witnessed how CSE supports young people to lead change for equality and diversity by helping them address issues of discrimination, stigma and bias both within themselves and their communities.
One example of excelling work using CSE to build healthy relationships is the global platform, Fòs Feminista, the International Alliance for Sexual and Reproductive Health, Rights and Justice. Expanding access to CSE for young people in all their diversity is a key priority for the Alliance and in 2021, its partners collectively provided CSE services to more than 1.5 million young people.
Fòs Feminista launched their ongoing campaign, #Families4CSE in light of the UN's Commission on the Status of Women in early March. The campaign challenges the notion that parents and guardians are against CSE by showcasing the wide support among parents, regardless of their political or religious beliefs, and reflecting the diversity of families amongst their partners.
On the importance of CSE, one parent from India said:
"Comprehensive sexuality education is key for healthy development and healthy relationships while protecting our children from abuse and discrimination."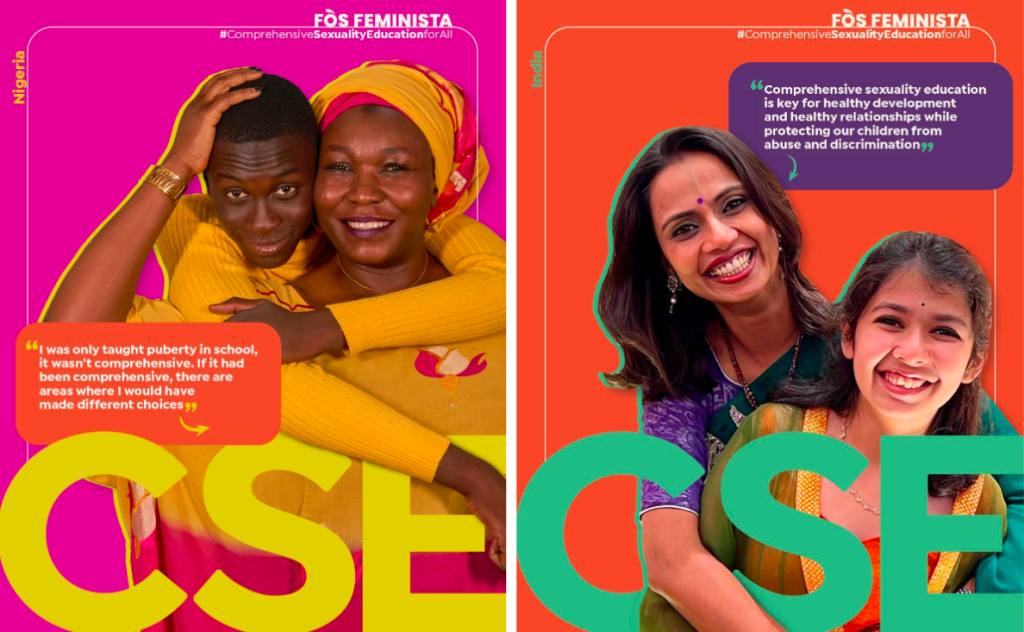 Posts featured in the #Families4CSE campaign reflecting why and how caregivers across the globe support young people's access to CSE.
Reflecting on the campaign, Fadekemi Akinfaderin Fòs Feminista' Chief Global Advocacy Officer shares:
"We are dedicated to promoting the sexual education of young people through feminist narratives and campaigns. We aim to create initiatives that will promote comprehensive sexuality education (CSE) and counter the misconception that families and guardians are unsupportive of CSE.
We are reclaiming the concept of 'families' and showcasing the support provided by various forms of families for expanding access to CSE.
Through our partnerships, we have witnessed tremendous support for CSE from various stakeholders, including government officials, parents, teachers, religious leaders, and traditional leaders."
Fòs Feminista is committed to amplifying the voices of young people and caregivers to raise awareness on the importance of CSE in high-level spaces (such as The Commission on Population and Development). Moreover, they are working with youth in different countries to demand access to comprehensive sexuality education. Fadekemi adds: 
"Our feminist alliance seeks to promote social change by reframing the discourse on CSE. We aim to challenge the prevailing norms and beliefs that suggest a lack of demand for CSE.
Through our efforts, we strive to advance feminist narratives that can shape social norms and facilitate the implementation of CSE across the global south and beyond.'
The #Families4CSE campaign will run until the end of the year. To follow Fòs Feminista's #Families4CSE campaign head over to their Facebook , Twitter and Instagram channels.
So, following Fòs Feminista's example, how can we make the most of the pivotal role CSE plays in supporting young people to build and nurture healthy relationships? Policy makers and decision makers must commit to ensuring that more funding goes to rolling out and supporting CSE programmes at the local, national and international level. And all of us must commit to finding ways to support young people's access to CSE – be it within our own families, schools or social circles – as a pivotal way for our society and economies to flourish!
For more information on CSE visit cse.shedecides.com.
---
[1] Hawkley L. C., Cacioppo J. T. (2013). Social connectedness and health. In Hazan C., Campa M. I. (Eds.), Human bonding: The science of affectional ties (pp. 343–364). Guilford Press.
[2] Lamblin M., Murawski C., Whittle S., Fornito A. (2017). Social connectedness, mental health, and the adolescent brain. Neuroscience and Biobehavioral Reviews, 80, 57–68. http://dx.doi.org.libproxy.uncg.edu/10.1016/j.neubiorev.2017.05.010
[3] https://www.guttmacher.org/sites/default/files/report_downloads/demystifying-data-handouts_0.pdf
[4] Murray, C. E., Ross, R., & Cannon, J. (2021). The Happy, Healthy, Safe Relationships Continuum: Conceptualizing a Spectrum of Relationship Quality to Guide Community-Based Healthy Relationship Promotion Programming. The Family Journal, 29(1), 50–59. https://doi.org/10.1177/1066480720960416